This shop has been compensated by Collective Bias, Inc. and its advertiser. All opinions are mine alone. #MerrySpritzmas #CollectiveBias
The holidays are a time of get-togethers, making spirits bright and of course, ugly sweater parties. It's the most wonderful time of the year and also the busiest. So, if you've been wanting to host a holiday party of your own, keep reading for my best tips on hosting an unforgettable Ugly Sweater party. For this year's ugly sweater party, we had to deck the halls (including the water closet), enjoy mocktails, choose winners for who wore the ugliest sweaters and steal ridiculous gifts during a white elephant gift exchange. But no party would be complete without party favors, which is why we gave the hilarious and useful gift that keeps on giving, of a Merry Spritzmas® from Poo~Pourri, the Before-You-Go® Toilet Spray. 
If you've never heard of Poo~Pourri, let me be the first to welcome you to the internet! Okay, I'm kidding, but this stuff is really the best! Here's how it works, you simply spritz it into the toilet bowl before-you-go, and Poo~Pourri's pure blend of NATURAL ESSENTIAL OILS creates a film on the surface of the water. The protective barrier traps odor under the surface before it ever begins! All you'll smell is a delightful aroma of natural essential oils, nothing more! It's truly the gift that keeps on giving! Hover over this image to shop at Bed Bath & Beyond!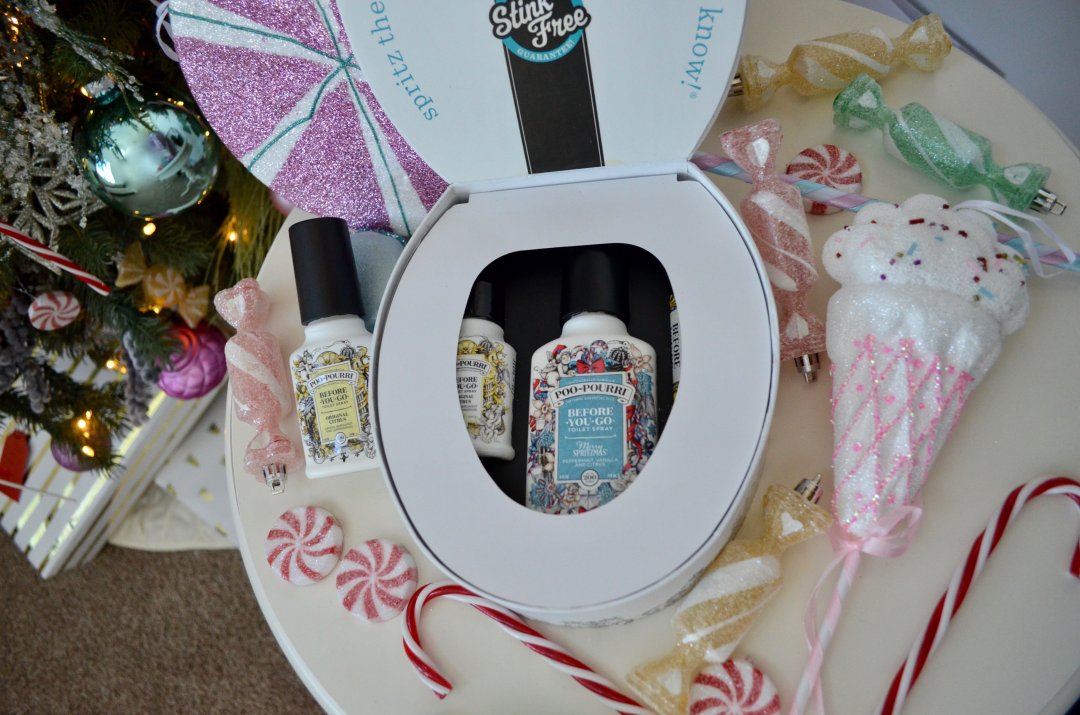 1. Invitations – Have fun with it
Invitations are very important for a themed holiday party, it's helpful to let them know important details. Things like if you want them to wear a certain color/theme, bring a dish to share or if they need to bring a gift to exchange. The invitations should be sent out 2-4 weeks before your party to ensure that guests have enough time to start working on their perfect Ugly Christmas Sweaters. Our invitations looked like this.  
They're quite dorky, but made me smile!
2. Food – Make it Festive
The menu for our Ugly Sweater party included finger foods like fruits, veggies and dip, fresh fruit, a hot soup bar and fresh rolls. The dessert table included cake, festive candies, beverages and garnishes to create-your-own mocktails. I like to make things feel fancy and festive by using real plates and stemware, and why not? It's Christmas!
  3. Host an Ugly Sweater Contest with Awards
Since everyone had to go through the trouble of finding or making a ridiculous ugly sweater, it just makes sense to give out some awards for the most hilarious and original ones. And yes, my ugly sweater was a printed man's chest! It was a bit awkward with the nipples showing, so I hid them underneath a Christmas lights necklace. HA!  Have all of your guests do a fashion show and place their votes for the ugliest sweater. Don't forget to make or buy some metals along with a tacky gift (like this enormous toilet gift set from Poo~Pourri with my favorite holiday aroma) Poo~Pourri  Merry Spritzmas®  is a blend of peppermint, vanilla, and citrus natural essential oils to give as a grand prize. It's was a hilarious way honor our winner and to make a big deal over them. 
  4. Play Reindeer Games
What is a holiday party without a few games? At past holiday parties, we've enjoyed and laughed hysterically playing the White Elephant Gift Exchange. If you've never heard of it or played it, here's how gameplay works:
Bring a wrapped, anonymous (and hilarious) non-sense gift.

Draw numbers to determine who gets to unwrap a present first, go in order numerically.

Sit in a circle and place the gifts in the center.

The person who drew #1 selects a gift from the pile, opens it, and holds it up for all to see.

The person who drew #2 decides whether to steal that gift or unwrap a mystery present from the pile.

The game continues in such a fashion, with each person getting the chance to steal someone's gift or unwrap their own surprise. After a gift has been stolen three times, it becomes frozen and can no longer be stolen.

When there are no more unwrapped gifts, the person who drew #1 gets one last turn. If they decide not to steal a gift, keeping the one they have, the game is over. If they do steal a gift, the game continues until someone decides to keep their gift, rather than steal.
  5. Give Unforgettable and Clever Party Favors
The holiday games are always fun but can also have you leaving with some random who-knows-what, that you'll just toss after the fact. I like to give each of our guests a party favor, the gift they'll remember for the smell they'd rather forget, to thank them for coming and partying with us. Poo~Pourri is the perfect holiday favor because it's something that is ACTUALLY useful and will still make everyone smile when they receive it and use it. #winwin Did you notice the clever and punny gift tags that came with the gift set!?And now for a fun holiday bathroom transformation! It's easy to see that I get a lot of my talent for Christmas decorating from my mom, (make sure to scroll down to the very bottom to see her bathroom). It's a simple way to make more rooms festive for the season! It's where party guests will probably need to go at some point in the night, why not have fun with it! Don't forget to leave them a party favor to find! By adding some festive decor and switching out the hand towel and soap colors, the bathroom has been transformed into a winter wonderland.
Don't forget to leave the Poo~Pourri close by. It's a one-way ticket onto the "Nice List" by leaving the toilet room smelling better than you found it. No stinky party fouls here, pun intended! Poo~Pourri Secret Santa is a blend of cinnamon, vanilla and citrus natural essential oils, sure to leave the porcelain throne smelling jolly all season long.
Okay, are you ready to see my mom's holiday bathroom? Here it is folks!
Pretty festive right? And yes, she did paint that shower curtain! This kind of makes my nipple sweater look VERY modest… haha, just saying. Don't forget to look out for special coupons at Bed Bath and Beyond's website before heading out to shop or shopping online. 
What is your favorite way to gift Poo~Pourri?